Crown fails in bid to jail Prestwick shop stabber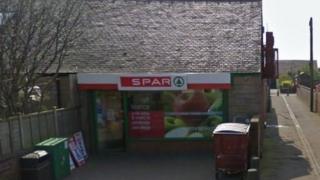 Prosecutors have failed to convince appeal judges to jail a thief who received a non-custodial sentence for stabbing a shop worker.
Kenneth Graydon, 40, stabbed Frieda Young, 61, outside the Spa shop in St Quivox Road, Prestwick, after stealing groceries and tobacco in November 2014.
He received a community payback order after a judge heard he was suffering from mental health issues at the time.
Appeal judges rejected a bid by the Crown to have Graydon jailed.
The case was heard by Lord Carloway, sitting with Lord Bracadale and Lady Dorrian, at the Court of Criminal Appeal in Edinburgh.
The judges heard that after the raid, Graydon was chased into the street by Mrs Young but he stabbed her and left her in a pool of blood.
Graydon, also of Prestwick, later admitted stabbing the woman to her severe injury and permanent disfigurement when he appeared at the High Court in Glasgow.
'Absolutely atrocious'
Judge Lord Turnbull put Graydon on a community payback order for three years under which he is being supervised by the authorities.
He also has to undergo mental health and rehabilitation treatment.
Speaking after the case, Mrs Young told a newspaper: "I honestly cannot believe this, it's absolutely atrocious.
"This is soft justice in the extreme and I want Crown Office prosecutors to appeal it.
"Everyone who knows me in Prestwick is shocked."
On Friday, Crown Office advocate Depute Iain McSporran told the court that Mrs Young had been traumatised by the attack.
He said that given the circumstance of the offences, judges would be entitled to quash the sentence and impose jail time on Graydon.
He added: "We believe the judge is in error."
Defence counsel Lorenzo Alonzi told the court that his client had long-standing mental health issues.
He said Graydon had been released from a psychiatric unit just a month before the incident.
Mr Alonzi said that given the state of his client's health, the sentence was appropriate.
The appeal judges told the lawyers that they would issue the reasons for their decision at a later date.
But Lord Bracadale said the appeal judges decided that the sentence imposed by Lord Turnbull was "robust" and that the public had sufficient protection from Graydon harming them.
He also said that should Graydon re-offend it would be open to the court to sentence him for breaching the order.