Jimmy Savile report: Abuse at BBC premises in Glasgow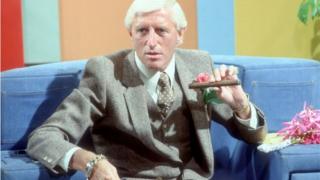 A leaked draft report into cases of sexual abuse by Jimmy Savile linked to the BBC has found evidence of incidents at studios in Glasgow.
According to the news website Exaro, incidents occurred at "virtually every one of the BBC premises" in which Savile worked.
It said incidents took place at BBC properties in Glasgow, Manchester, London and other studios around the UK.
BBC head Lord Hall said lessons would be learned from a "dark chapter".
Savile was one of the UK's best-known TV and radio personalities, who presented favourites such as Top of the Pops and Jim'll Fix It as well as stints on BBC Radio 1.
He was also well-known for raising about £40m for charity.
Shortly after he died in October 2011, aged 84, allegations of widespread sexual abuse surfaced.
It later transpired that he was, in fact, one of the UK's most prolific sexual predators and had used his status to prey on hundreds of people - girls and boys, men and women, but mostly vulnerable young females.
The BBC, which employed Savile for decades, established the Dame Janet Smith Review in October 2012, to conduct an impartial examination of its culture and practices during the years that Savile worked at the corporation.
According to a leaked draft report, published by Exaro, Dame Janet states that most of Savile's rapes and attempted rapes took place in his flats or caravans.
But the report is also said to state that abuse took place on the sets of Top Of The Pops and Jim'll Fix It, at least once on camera, as well as in corridors, kitchens, canteens and dressing rooms at the BBC Television Theatre, Television Centre and Broadcasting House, where Savile worked for Radio 1.
Others incidents occurred at the Lime Grove studios in London and BBC properties in Leeds, Manchester and Glasgow.
It said that while staff, some of them senior, were aware of his sexual behaviour, they were scared to report it to managers.
Investigations into allegations of sexual assault were "wholly inadequate", the report states and the BBC is criticised for failing to properly examine his personality, despite rumours about him and that he worked with children.
Dame Janet's final report is due to be published within six weeks