Probe into claims of marine 'beasting' at Faslane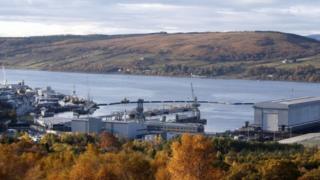 An investigation is under way into allegations that Royal Marines were subjected to illegal initiation ceremonies at the Faslane Naval Base.
The Times reported that up to 12 young commandos were forced to do 100 press-ups with someone sitting on their back.
Practices such as those alleged are often referred to as "beasting".
The Royal Navy said the Naval Service and Royal Navy Police were probing the allegations and all claims of bullying and harassment were taken seriously.
The Faslane Naval base on the Clyde is also the home of Britain's fleet of Trident nuclear submarines.