Man dies in a fire at a flat in Airdrie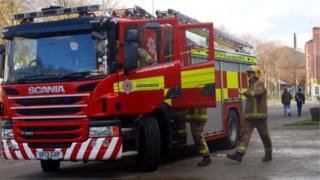 A man has died following a fire at a flat in Airdrie.
Scottish Fire and Rescue Service crews were sent to North Biggar Road in response to a 999 call made shortly after 10:40 on Sunday.
Firefighters said two appliances reached the scene about five minutes later.
Four firefighters in breathing apparatus carried out a search and rescue operation, which resulted in the man being found.
He received emergency treatment from firefighters before being passed to the care of paramedics.
An ambulance took him to Monklands General Hospital but he did not survive.