Murderer John Wilson fails to return to prison in Greenock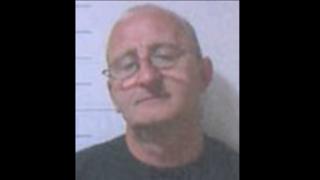 Police are hunting a murderer who failed to return to prison following unescorted leave.
John McDermott Wilson left HMP Gateside in Greenock, where he is serving a life sentence, on Friday.
He was last seen outside Central Station in Glasgow at about 16:05 that day.
Wilson, 50, is 5ft 5in tall, of medium build, fair complexion, brown, thinning hair, blue eyes and is clean-shaven with a small scar on his lower lip.
When he was last seen, he was wearing a blue jacket, grey sweatshirt, blue T-shirt, navy jeans, black boots and a black beanie hat.
Police Scotland have appealed for anyone with information about Wilson's whereabouts to contact them.
But they have warned members of the public not to approach the killer, who was convicted in 1991.