Speeding driver jailed for killing OAP in Glasgow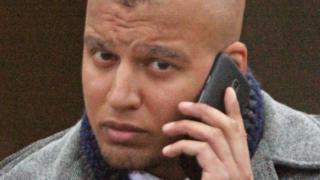 A speeding driver who knocked down and killed a 71-year-old man in Glasgow has been jailed for four years.
Sandeep Singh's BMW was travelling at almost 50mph in a 30mph zone when it hit Billy Dunlop in Nitshill Road, in the Darnley area, on 20 February 2014.
The OAP died after suffering injuries to his head, arms, legs and pelvis.
Singh, 29, was convicted of causing death by dangerous driving. Having completed a driving ban in 2013, he was was disqualified again for 10 years.
'Scant regard'
Jailing him at the High Court in Glasgow, judge Lady Rae told Singh he had "scant regard" for motoring laws given his convictions, including speeding and using a mobile phone while driving.
Lady Rae added: "I find it incomprehensible that during the journey - up to the fatal impact - at no time did you see Mr Dunlop.
"You ought to have seen Mr Dunlop and taken evasive action."
A previous hearing at the High Court in Livingston was told that Mr Dunlop was crossing a dual carriageway, a few yards from a pedestrian crossing, as he walked home from his local pub.
The jury was shown CCTV of Singh's car driving into Mr Dunlop, who died at the scene.
A police collision specialist told the court that Singh's brake lights came on just half a second before he hit Mr Dunlop.
Plea rejected
Singh had offered to plead guilty to a lesser charge of causing death by careless driving, but this was rejected by the Crown.
He said in evidence that he had been driving home from his family's Indian restaurant in Paisley when Mr Dunlop "came out of nowhere".
He said he had not realised his speed was more than one and a half times the legal limit, adding: "I had no time to react. It was like a split second and it's changed my life."
The jury did not believe Singh, however, and convicted him of causing death by dangerous driving.
After the guilty verdict, it was revealed that Singh, from Darnley, had five previous convictions for motoring offences.
Between 2009 and 2011 he was prosecuted twice for using a mobile phone while driving, and had convictions for speeding on a motorway, failing to display a road tax disc and failing to comply with a red traffic light.