Tributes after top architect Gareth Hoskins dies aged 48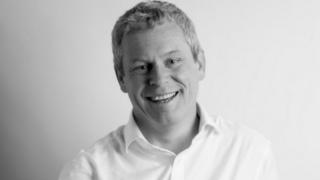 Tributes have been paid to one of Scotland's best-known architects Gareth Hoskins who has died at the age of 48.
He set up Hoskins Architects in Glasgow in 1998 and won UK Architect of the Year in 2006 and Scottish Architect of the Year in 2009.
High profile work included the National Museum of Scotland, Scottish National Gallery and World Museum in Vienna.
Mr Hoskins died after suffering a heart attack. First Minister Nicola Sturgeon said she was "deeply shocked".
Ms Sturgeon tweeted: "Very sad to hear of the death of Gareth Hoskins, one of Scotland's finest architects. My thoughts with his family."
Mr Hoskins was an advisor to the Royal Institute of British Architects and a design panel member of the Scottish government's body, Architecture and Design Scotland.
Between 2006 and 2010, he was the Scottish government's National Healthcare Design Champion.
Chris Coleman-Smith, a co-director of Hoskins Architects, said: "Everyone at Hoskins Architects has lost an exceptional architect, a visionary and a gifted leader, but above all a very good friend.
"Gareth leaves a huge gap, he was such a special person. We appreciate the very many messages of condolence that have already been received."
Mr Hoskins profile projects also included the Mareel arts centre in Lerwick.
Recent commissions including a rooftop extension of Aberdeen Art Gallery and a brand new centre for the National Theatre of Scotland in Glasgow.
He was also behind a controversial plan to convert Edinburgh's Royal High School into a hotel.
Neil Baxter, chief executive of the Royal Incorporation of Architects in Scotland, tweeted: "Scottish architecture has lost one of its brightest young stars."
Mr Hoskins suffered a heart attack during a fencing match in Edinburgh on 3 January and died in hospital one week later.