Armed robber Stephen Lawrie jailed for shop worker attacks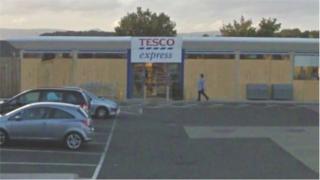 A man who admitted attacking an OAP and a shop worker during an armed robbery in North Lanarkshire has been jailed for six years and five months.
Stephen Lawrie and another man stole more than £900 from a Tesco Express in Airdrie on 14 September 2014.
He also admitted jabbing an air pistol into the stomach of a 76-year-old man and hitting a worker over the head.
Father-of-four Lawrie, 40, was caught after his DNA was found on a broken part of the weapon.
'Terrifying incident'
He pleaded guilty to assault and robbery as well as possessing an imitation firearm.
Jailing him at the High Court in Glasgow, judge Lady Rae told Lawrie: "This must have been a terrifying incident for those involved, one of whom was a 76-year-old, who because he couldn't get out of the way, was assaulted by you.
"You caused him to fall backwards onto the floor and he was in poor health at the time.
"Then, after you got the money you gratuitously hit one of the supermarket assistants on the head with the gun."
The court heard that the gun was an imitation one, but Lady Rae said: "Your victims wouldn't know that and to be threatened with that must have been absolutely terrifying."
The court previously heard that Lawrie and another man, who was armed with a knife, were both masked when they carried out the raid.
Lawrie demanded that 76-year-old shopper Hugh Goldie get on the ground before pushing what appeared to be a handgun into his stomach, causing him to fall.
Staff were then told to fill a bag with cash.
Lawrie then yelled that no-one was to call for help before hitting worker John Turnbull on the head with the weapon.
The pair escaped but Lawrie was caught after his DNA was found on a broken part of the weapon that was recovered by police.