Police investigate gunshots fired at Stevenston home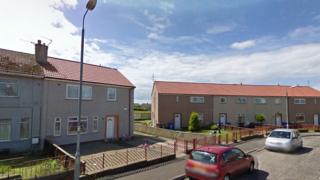 A police investigation is under way after gunshots were fired at a family home where children were present.
Officers were called to the house in Misk Knowes, Stevenston, at 23:50 on Tuesday.
A family, including a couple with children and a visiting grandchild, were in the house at the time.
The family were unharmed but the front door of the property was badly damaged in the attack. Police have appealed for information.
Det Insp William McDicken said: "Police inquiries are at an early stage and officers are carrying out extensive inquiries in the area.
"Crime of this nature is very rare, however I can understand that members of the public may be concerned.
"I would like to reassure them that there are extra patrols in the area and anyone with any concerns should speak to the police."