Francis Santhio jailed for murdering wife with dumbbell in Glasgow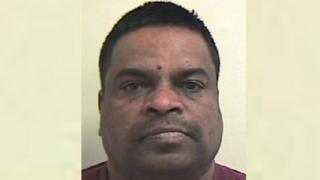 A man who bludgeoned his estranged wife with a dumbbell and then left her to die has been jailed for a minimum of 13 years and four months.
Francis Santhio, 53, attacked 49-year-old Amelet Francis at her home in Toryglen, Glasgow, in September.
The couple's eldest son discovered his mother's body. Santhio claimed he was driven to kill his wife because she treated him like a slave.
Judge Lord Turnbull said he was a violent man who had shown no remorse.
The court heard Santhio was arrested by police after making a tearful confession to another of his children.
The 53-year-old, who has previous convictions for domestic abuse, pled guilty to murder.
School confession
The couple were married in 1989, but Santhio was latterly estranged from his family, the court was told.
On the morning of the murder - 4 September - Santhio was seen approaching his wife at mass at a local church.
Later in the day, their eldest son got a call to say something had happened to his mother.
He immediately called her home and his father answered stating: "She can't speak - there has been an accident."
Their son rushed to the flat and discovered the door unlocked.
Describing the horror the son eventually found in a bedroom, prosecutor Bruce Erroch said: "On looking through the door, he saw his mother on her back on the floor.
"She was covered in blood and suffering from an obvious head injury."
The son dialled 999, but paramedics could not save his mother.
After the murder, an emotional Santhio turned up at the school of one of his other sons.
He told him their mother had fallen after he hit her and that she "could not get back up".
'Got angry'
On being told his wife was dead, Santhio complained: "She treated me like a slave. She retained my passport and kept my money."
The court also heard that, while on remand, the killer called his daughter, who had not heard from him for two years.
He admitted he had got "angry" with his wife and smacked her on the head with a weight.
A blood-stained dumbbell was discovered at the murder scene on the kitchen floor.
Santhio was given a mandatory life sentence and told he would spend a minimum of 13 years and four months in prison before being eligible to apply for parole.
Lord Turnbull said: "Over the last two years you have appeared on four occasions on charges concerning criminal conduct against your wife. On three occasions you received community payback orders and on the last occasion on September 2014 you received a period of imprisonment.
"Despite this history, you again behaved violently towards her in September this year, on this occasion taking her life by violence which involved repeatedly hitting her on the head with a metal bar.
"You have shown no remorse or empathy and have sought to blame others for your predicament."
Lord Turnbull told Santhio that, but for his early guilty plea, the punishment part would have been 16 years.