Madonna rebuke after power cut during Glasgow encore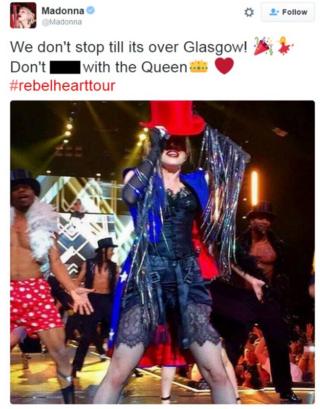 Pop star Madonna has issued a rebuke after the power was cut during her encore at Glasgow's Hydro venue.
The singer left the stage at the end of her Rebel Heart tour concert on Sunday.
When she returned for an encore of Holiday, Madonna was forced to lead a crowd singalong after finding the power off and floor lights on.
Posting on Instagram, Madonna said: "We don't stop till its over Glasgow! Don't try to silence the Queen." The Hydro said Madonna's own team cut the power.
A spokeswoman for the venue said: "Madonna finished her agreed set and then chose to come on for another song.
"By that stage, all the power and control equipment had already been disconnected by her own production engineers. I would stress that this was not a venue decision."
Videos posted on social media showed Madonna leading a singalong of Holiday at the packed venue.
The Glasgow gig was the last of 25 sold-out shows on the European leg of the 57-year-old's latest tour.
She will perform in Mexico at the start of January.