South Lanarkshire Council warns of £21m in extra cuts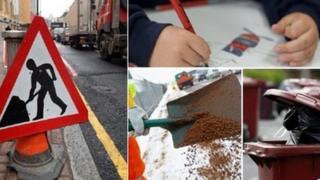 South Lanarkshire Council has warned it may need to make an extra £21m of cuts and savings next year.
The council said the amount it will get from the Scottish government will fall by more than it had feared.
Scotland's Finance Secretary John Swinney announced in his budget statement on Wednesday that local government revenues would be cut by 3.5% for 2016/17.
He said he had protected councils from the worst of "Westminster cuts".
The leader of Labour-run South Lanarkshire Council described the budget as "brutal for councils" and blamed the Scottish government.
'Terrible news'
Eddie McAvoy said: "It's terrible news for the millions of Scots who rely on us for their vital services, from taking care of the elderly to educating children.
"John Swinney could have stood with councils to protect public services. Instead, he has delivered a level of austerity even the Tories would have baulked at."
He added: "We have not seen the fine print of the budget yet, but the pain caused by Mr Swinney will certainly be felt in South Lanarkshire.
"Our government grant will fall next year by £21m more than the worst scenario we had previously feared.
"That means we will have to go back to the council's executive committee with further proposals on top of the £36m of savings they have already been asked to consider.
"These are devastating cuts and they come after we have already cut about £100m from our budget in recent years.
"We've tried to protect local services throughout, but the simple fact is that there is no fat. We're already cutting into bone."