Funeral for acclaimed crime author William McIlvanney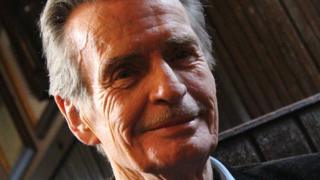 Authors, actors and politicians have attended a private funeral service for the celebrated Scots novelist William McIlvanney, who died last week aged 79.
Former prime minister Gordon Brown, Rebus creator Ian Rankin and actors David Hayman and Tony Roper attended the service at Glasgow University.
McIlvanney wrote the acclaimed Laidlaw trilogy and other Glasgow-based works such as Docherty and The Big Man.
The novelist died at his Glasgow home on 5 December.
He is survived by his partner Siobhan, his daughter Siobhan, son Liam and his brother, Hugh, the respected journalist.
Readings and tributes
About 300 people crammed into the chapel at the university, where McIlvanney studied between 1955 and 1959.
Among them were eminent historian Sir Tom Devine, Glasgow City Council leader Frank McAveetey, journalists and broadcasters.
The funeral opened with a Lament played by fiddler Aly Bain, while Leonard Cohen's Anthem and Auld Lang Syne were also performed during the service.
Readings and tributes were paid from people, including McIlvanney's brother Hugh and his son Liam, also a crime novelist.
One of McIlvanney's poems was printed in the order of service and the author's daughter Siobhan read the poem "Because I Could Not Stop For Death", by Emily Dickinson.
McIlvanney, originally from Kilmarnock, became an English teacher after graduating before changing career in 1975 to write full-time.
He gained immediate recognition with the publication of his first novel - Remedy Is None - and through other works he earned the title of "Godfather of Tartan Noir".
He was also an influential poet, journalist and broadcaster, and contributed to political and sporting life in Scotland through a series of columns and TV programmes.
Leading figures in Scottish culture paid tribute to Mr McIlvanney when his death was announced.
He won a number of awards, including the Whitbread Prize and the Crime Writers' Association's Silver Dagger.
A memorial service in celebration of Mr McIlvanney's life will be held at the university on 2 April next year.
A spokeswoman for the university said: "Everyone at the University of Glasgow is deeply saddened by the loss of our distinguished alumnus William McIlvanney.
"He was a true literary great and respected by many, and it is a privilege for the university to be able to host his funeral service. We are pleased to offer our support to his family at this sad time."