Grant to improve section of Antonine Wall in West Dunbartonshire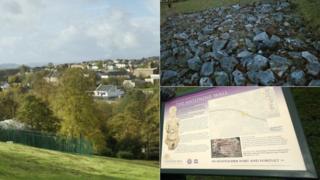 A project to improve the Antonine Wall in West Dunbartonshire has been awarded a £10,000 Heritage Lottery Fund grant.
The cash will be used to clean the wall and raise awareness of its historical importance.
The ancient fortified wall was built in 142 AD by Roman Emperor Antoninus Pius. It runs west to east across the central belt of Scotland and formed the Roman Empire's north-west frontier.
The wall is one of only six Unesco World Heritage Sites within Scotland.
West Dunbartonshire Council is contributing £20,000 funding to the project, which previously secured £2,500 funding from the Glasgow Airport Flightpath Fund.
'Rich heritage'
Planning convener, Councillor Lawrence O'Neill, said: "The section of the Antonine Wall which is within Goldenhill Park is an important part of the rich heritage which we have in West Dunbartonshire.
"I am delighted that we have secured these two grants which will allow significant work to be undertaken to improve the appearance of this section of the wall.
"It is important that we celebrate this significant historical site and continue to recognise the huge importance of the wall, both to our local area and further afield."
The council said work would begin soon with a full archaeological clean of the wall rampart.
The existing railings around the wall will also be removed and replaced with new railings, which will be designed with input from pupils at Goldenhill Primary.
The educational and community programme will include a community dig event and guided walk along the route of the wall.