John Haugen has jail term cut for Grace Kissell murder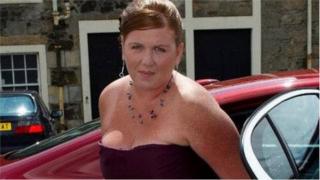 A man who murdered his landlady after a dispute over money has had his minimum jail term cut from 19 to 16 years.
Former soldier John Haugen, 41, stabbed 32-year-old Grace Kissell 27 times at the flat he rented from her in Linwood, Renfrewshire, in May this year.
He admitted murdering her after fearing Ms Kissell was going to evict him from her property.
An appeal court judge has now ruled that the minimum term of the life sentence imposed was "excessive".
Haugen's jail term was imposed at the High Court in Glasgow by judge Lady Rae who told him he had committed an "appalling and frenzied attack on a defenceless woman".
'Frenzied attack'
On Thursday, at the Court of Criminal Appeal in Edinburgh, judge Lord Carloway said Lady Rae's decision to impose a minimum of 19 years was "excessive".
In a written judgement issued by the court, Lord Carloway, who is currently Scotland's most senior judge, wrote: "There is no doubt that, as the judge reports, this was a 'frenzied attack of a most brutal nature' which required the imposition of a substantial punishment part attached to the life sentence.
"However, as was submitted in the course of the appeal, the appellant has no significant criminal record.
"The murder was not premeditated, nor did it involve taking a weapon into the public arena. The appellant made no attempt to conceal the crime and telephoned the police shortly after the incident."
Lord Carloway concluded: "There were no other offences involved with the crime. There was a degree of remorse expressed.
"The court will allow the appeal, take as its starting point a punishment part of 19 years and discount that to one of 16 years."
At Haugen's trial, the court heard how Ms Kissell rented the housing association flat in Cowal Drive, but then sublet it to Haugen in January 2014.
Money row
Haugen had recently left the armed forces following a hearing problem.
He made payments towards rent and council tax.
He later claimed he was owed £2,000 by Ms Kissell.
On 14 May he sent Ms Kissell a text stating: "I can be nasty too Grace, don't want to be, I just want what I'm owed and that's it."
When she went to the flat to meet Haugen, he "snapped" and stabbed her, the court heard.
In a 999 call, Haugen told the operator he had committed a murder, adding: "I am not going to do a runner - what's the point?"
He also called his father and sister to admit he had killed someone.