Paul Gorman bribed girl, 13, to take explicit photos of herself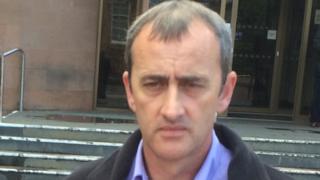 A taxi driver who bribed a 13-year-old girl to take sexually explicit photos of herself and send them to him on Facebook has been jailed.
Paul Gorman, 46, offered £40 to the girl to supply indecent images.
She took the pictures on her mobile phone in the toilets of her school.
Gorman, of Kilwinning, was jailed for 15 months at Kilmarnock Sheriff Court and placed on the sex offenders register for 10 years.
Police were called after a family friend spotted suspicious Facebook messages between Gorman and his victim, who is now 15.
Officers raided his home in Kilbirnie and seized a laptop containing pictures of young children being sexually abused.
Computer forensics experts found Gorman had visited a website which hosted child sex images.
During his trial, Gorman admitted taking or making indecent images at a house in Dalry in May, 2014.
A jury found him guilty of causing a child to engage in sexual activity by photographing herself and sending him pictures, and asking her to make an indecent video.
Four charges of lewd and libidinous behaviour and sexual assault of the girl and her friend, also 13, were found not proven.