Fire raising attack on GHA offices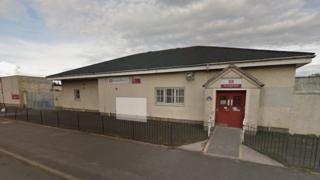 Police are hunting two men who deliberately set fire to a housing association office in Glasgow.
The men broke into the Glasgow Housing Association (GHA) property in Ashgill Road, Milton, on Saturday.
CCTV footage revealed the men at first tried to set light to the door at about 20:15 but the flames did not take hold because of bad weather.
They returned at 22:10 and broke into the office before setting another fire which caused substantial damage.
Det Con Katy Allan, of Police Scotland, said: "We know from our enquiries that this was a targeted attack.
"The men, who had been sitting in a silver car opposite the building for some time prior to the incident, had the audacity to come back and set a fire again when the first one didn't take full hold.
"They were obviously determined to inflict some serious damage to the building which will now be closed until enquiries and repairs are complete.
"As mentioned, the men had the engine running in the car prior to the fire and I am sure they would have been heard or seen by a neighbour for this reason.
"Anyone with information about the fire raising can contact Maryhill CID on 101 or alternatively can call Crimestoppers on 0800 555 111 where details can be given in confidence."