Unit on new Glasgow hospital campus must improve elderly care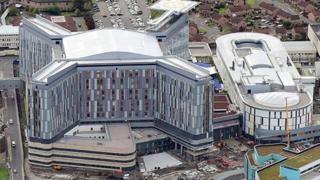 Health inspectors have criticised the standard of elderly care at a unit on the same campus as Glasgow's new £842m Queen Elizabeth University Hospital.
Healthcare Improvement Scotland (HIS) carried out an unannounced inspections at the hospital and its nearby Langlands Unit in September.
Problems at the Langlands Unit included a lack of leadership, low staffing levels and poor nutritional care.
NHS Greater Glasgow and Clyde (GGC) said it was addressing the concerns.
The Langlands Unit has seven wards with 210 inpatient beds and cares for the elderly and patients who have had a stroke and require rehabilitation.
Short-staffed
HIS said one of the wards at the unit was "short-staffed every day that it was visited by the inspectors".
There was no senior charge nurse on ward 56, with inspectors saying this "resulted in a lack of leadership which contributed to our concerns about patient safety".
While inspectors said most patients who needed assistance to eat their meals "received help in a timely manner", they also said there was an "inconsistent approach to staff going back to check patients were managing with their meal or to encourage patients to eat as much as they could".
Their report said: "We also observed some staff standing over patients to give them their meal, which was not respectful, and one patient lying in bed with their meal on the bed table - this patient's meal sat for 15 minutes before one of the inspectors had to alert trained staff.
"Completion of food record charts was poor. It was often unclear what food had been offered to the patient and what had actually been eaten."
Inspectors also found some patients had lost considerable amounts of weight without staff being aware, stating one person who was "at high risk of malnutrition" had lost 7kg in the 10 days following their admission.
Some patients waited two weeks to be seen by a dietician, the report said, adding that meal times "appeared chaotic" and there was no assurance that those needing tube feeding were getting this "due to poor completion of documentation".
The report found five areas of good practice but said there were 18 areas where care needed to improve.
Jacqui Macrae, head of quality of care for HIS said: "In our inspection, we were encouraged to see that many dementia design principles have been incorporated throughout the hospital, making it a dementia-friendly environment, and to see the improvement work being undertaken and supported by the falls co-ordinator to reduce the risk of falls when in hospital.
"We found that further improvement is required to ensure that all older people are assessed within the national standard recommended timescales.
"We also highlighted the need for assessments to be accurate and fully completed, and all patients with the most severe pressure ulcers are referred to the tissue viability service at the earliest opportunity."
'Spot checks'
Ms Macrae added: "During the inspection, we also highlighted concerns related to specific areas of care offered for stroke and rehabilitation patients, and in this regard identified particular areas for improvement in certain wards."
Margaret McGuire, nurse director at NHS Greater Glasgow and Clyde, said action was being taken to address concerns at the "separate standalone" Langlands Unit.
This included the keypad entry system at the Langlands Unit being taken out of use and consent-approved activity trackers being used to protect vulnerable patients.
Record-keeping procedures have also been tightened and "a daily process of spot checks" has been introduced "to ensure that care plans are being completed".
Ms McGuire added: "I want to offer reassurance that an assessment of staffing levels is made in each and every ward across NHS GGC on a day-to-day basis to ensure that staffing levels are safe and appropriate.
"I have also agreed with Healthcare Improvement Scotland for the Improvement Advisor who will be working with our teams to focus on providing support for the improvements that we are putting in place within the Langlands Unit."
The new £842m Queen Elizabeth University Hospital began taking patients in April.
It replaced the Royal Hospital for Sick Kids at Yorkhill, the Southern General Hospital, the Western and Victoria Infirmaries, and the Mansionhouse Unit.
The 1,109-bed hospital was built on the site of the Southern General and is one of the largest acute hospitals in the UK.