Labour MP Marie Rimmer faces trial over alleged 'referendum assault'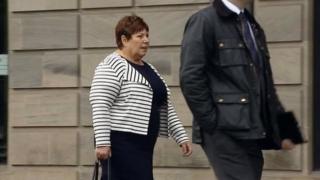 A Labour MP accused of kicking a "Yes" campaigner outside a polling station on the day of the Scottish independence referendum is to stand trial next year.
Marie Rimmer denies assaulting Patricia McLeish at Shettleston Community Centre, Glasgow, on 18 September 2014.
A previous trial of the 68-year-old MP for St Helens South and Whiston collapsed because the word Glasgow was not included on the charge.
The Crown Office re-raised the case, which will be heard in April next year.
The MP also faces a charge of behaving in a threatening or abusive manner by repeatedly approaching volunteers and pointing in the face of Dennis Ashcroft.
She is alleged to have repeatedly approached Ms McLeish in an aggressive manner.
The case against Ms Rimmer called at Glasgow Sheriff Court where she was not present but was represented.
A not guilty plea to the charges was tendered on her behalf and a trial was set for April next year.