Governance at North Glasgow College 'was unacceptable'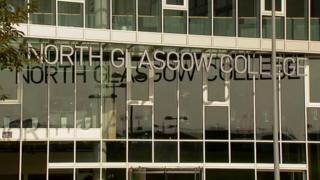 The governance at a former college in Glasgow has been branded "unacceptable" by a committee of MSPs.
North Glasgow College lacked openness and transparency, according to Holyrood's public audit committee.
It says the college's remuneration committee was unaware of its responsibilities and decisions on pay-offs fell short of the required standard.
Principal Ronnie Knox received a pay-off of more than £310,000.
John Gray, his vice-principal, received around £160,000.
The college merged with two others in 2013 to create Glasgow Kelvin College.
The committee's report follows criticism by the public spending watchdog Audit Scotland.
'Seeking assurances'
The committee is seeking assurances from the Scottish government and Scottish Funding Council that action has been taken to strengthen governance procedures.
Public audit committee convener Paul Martin said: "The Auditor General reported that she found a lack of transparency around the process of agreeing staff severance arrangements at North Glasgow College.
"It was clear to the committee that there were concerning levels of ignorance amongst those in decision-making roles about the proper process for agreeing severance deals.
"We find it unacceptable that there was no audit trail of the remuneration committee's decision-making being reported to the college board.
"While we note that there was no finding of fraud or illegality, the evident poor governance and the lack of openness and transparency in the decision-making process are serious concerns.
"The college seemed to be unaware of its responsibilities in respect of governance around severance."
Severance payments
Last week, Education Secretary Angela Constance announced a taskforce to look at the quality and resilience of college governance.
North Glasgow College disappeared as a distinct institution as part of a major shake-up of the college system.
Colleges across the country gradually merged into 20 so-called "regional supercolleges".
In the process, staff numbers fell by 9% nationally - mostly through voluntary redundancies and early retirements.
Two former colleges are accused of displaying "significant shortcomings" in their severance arrangements process - North College Glasgow and Coatbridge College.
Senior staff at the former Coatbridge College were accused of colluding to give themselves overly generous severance payments before a merger.
The committee previously heard how £849,842 was paid to seven staff there.
The committee's inquiry into Coatbridge College is continuing.
The committee recently said more information was needed before the shake-up of colleges nationally could be judged a success.
Financial controls
A Scottish government spokesman said: "We acknowledge the public audit committee's report into the governance failings at North Glasgow College.
"As ministers have already made clear, we expect that high standards are met when decisions are taken involving public money.
"As the report highlights, these events took place prior to stronger financial controls coming into effect across the sector.
"Today, colleges are required to comply with processes set out in the Scottish Public Finance Manual and must seek approval of settlement and severance arrangements from the Scottish Funding Council.
"We will, in partnership with the Scottish Funding Council, consider carefully the findings of this report."
Glasgow Kelvin College said it noted the findings of the report relating to the governance and financial stewardship of North Glasgow College.
Principal of Glasgow Kelvin College, Alan Sherry, said: "We would reaffirm that the college has in place the highest standards of governance to ensure transparency, accountability and best value in its use of public funds."