Linsey Cotton jailed for threats to 'suicide pact' mother and daughter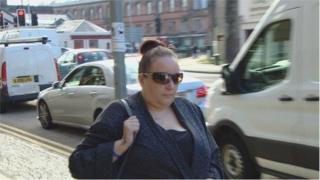 A woman has been jailed for three years for threatening and trying to extort money from a mother and daughter who died in an apparent suicide pact.
Linsey Cotton, 33, began an internet scam that targeted Michael McDonough. His mother and sister, Margaret, 52, and Nicola, 23, later became embroiled.
The women were found fatally injured at a hotel in Greenock after Cotton had demanded £5,500 to keep them from jail.
Cotton was jailed after she admitted fraud and threatening the women.
Jailing Cotton at Paisley Sheriff Court, Sheriff Robert Fife told her she was responsible for an "extraordinary, complex web of deceit and lies".
He said she had been guilty of "wicked, controlling and manipulative behaviour" and rejected any suggestion that she had been "spontaneous" in her actions.
The sheriff said she had "invented" a whole series of characters to deceive the McDonough family and her false threats had affected each victim personally.
He said her actions were "cruel", "wholly unjustified" and "wicked" and should be "condemned by any reasonable person".
The court previously heard that Cotton had set up an online dating profile under the name of Stephanie Wilson.
She used the alter ego to make contact with Margaret McDonough's son, Michael, before beginning an online relationship with him in 2012.
Cotton then claimed to know the fictitious "Stephanie" in order to get close to Michael's family.
Michael was told he might be able to see Stephanie if they got engaged.
He gave Cotton £5,000 for Stephanie and gifts including an engagement ring.
At the beginning of May 2013, Cotton told Nicola and Margaret McDonough they had breached a confidentiality clause about Stephanie, blaming Nicola in particular.
Prison threat
She said the women would go to prison for 20 years if they did not give her £5,500.
Both women were found with serious injuries at the Premier Inn in Greenock on 10 May 2013.
Margaret died later that day, and her daughter died three days later.
After Cotton's scheme was uncovered she admitted charges of fraud and of threatening the women.
In her defence, Cotton claimed to have committed the crimes because she wanted to have a relationship with Michael McDonough.
She said she felt "remorse and shame" for the upset and anguish she caused the McDonough family.
In a statement after Cotton was sentenced, the McDonough family thanked police and the Crown Office for their professionalism "in bringing this evil individual to justice".
Det Insp David Wagstaff, the officer in charge of the inquiry, said: "The McDonough family are a loving caring family, as a result of their care and compassion Linsey Cotton was able to manipulate them and dupe them into believing her elaborate and evil lies over a 12 month period.
"The McDonough family have remained dignified throughout this terrible ordeal and my thoughts remain with them."