Betting shop exclusion scheme expanded across Glasgow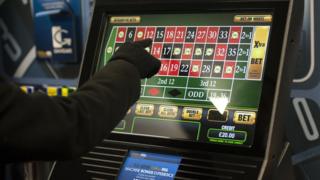 A pilot scheme allowing people with a gambling problem to exclude themselves from betting shops is to be expanded across the wider Glasgow area.
Launched in July, it allows people with a betting problem to request they be refused service.
Initially confined to 36 city centre shops, it is now being extended to include 300 shops across Glasgow.
The scheme is backed by the Association of British Bookmakers (ABB) and Glasgow City Council.
ABB chief executive Malcolm George said: "The expansion of the scheme to include 300 shops and independent operators shows our members' commitment to people who may have a problem with their gambling and makes it easier for them to self-exclude."
Prior to the scheme being established, gamblers were only able to exclude themselves from one betting shop at a time and were required to fill in forms for each different operator.
Under the project, any customer who feels they are getting into difficulty with their gambling can now exclude themselves from the participating shops by contacting a central team of advisers.
Advisers can also give customers information about how to get help, including the details of counselling services or treatment programmes.
The pilot scheme is being carried out with a view to developing a cross-operator scheme that will be rolled out to all 9,000 bookmakers in the UK in the spring.
Mr George said: "We know that some customers have been reluctant to self-exclude in the past because they had to have separate agreements with each operator.
"It is important, though, that someone wishing to exclude chooses to do so from shops where they regularly visit or are known to staff, as this will allow the shop teams to support them properly.
"This pilot project is playing a major role in developing the first multi-operator self-exclusion scheme which will launch next year. We all want to learn what works and what doesn't work from this initiative."
The confidential helpline number is 0330 1234 098.