French 16th century book has 'earliest' pictures of tennis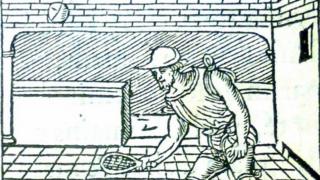 Academics believe a 16th century French book contains the earliest printed images of a game similar to tennis.
They are contained in a book by Guillaume de La Perriere, "Le theatre de bons engins", or the theatre of fine devices, published in Paris in 1540.
The book was recently bought by Glasgow University.
Archivists at the university have identified the images as showing a game of jeu de paume, an earlier form of what we now know as tennis.
The book, which is part of the university's Stirling Maxwell Collection, is filled with pictures and accompanying mottoes which talk about life in general.
Historic 'Instagram'
The images range from moths with candles that warn against rushing into war to domestic pictures.
The university's Prof Laurence Grove said that the books were high-tech for the time, with printed pictures as well as words.
"It's Instagram for the 16th century," he said.
Finding the images was a surprise, he added, saying: "You never know what's in there, there are some funny images, and they remind us that what you think is modern isn't modern, it's been there for four centuries."
"Part of the fun of history is it allows us to connect with what's happening today.
"By having the world's best collection of picture books we can compare the images of yesteryear with those of Andy Murray taking on Mannarino today.
"The images are clearly of a jeu de paume, an earlier form of what we now know as tennis, and these are the earliest printed images of such a match."
The book is now part of Glasgow's University's collection of some 2,000 picture books and is one of several newly-acquired volumes on display at the emblem conference, a meeting of leading researchers and academics, at the university.