John Haugen admits murdering Grace Kissell in money row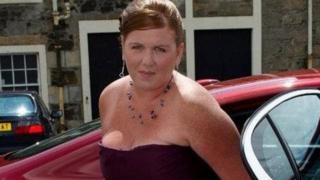 A man has admitted murdering a 32-year-old woman in Renfrewshire following a dispute over money.
John Haugen, 41, stabbed Grace Kissell 27 times at the flat he rented from her in Cowal Drive, Linwood, on 14 May.
The High Court in Glasgow heard that Haugen had rowed with Ms Kissell whom he claimed had owed him £2,000.
Judge Lady Rae described the attack as "horrific and frenzied". She will tell Haugen at a later date how long he must serve of a mandatory life sentence.
The court heard that childcare worker and mother-of-one Ms Kissell had sub-let the flat in Linwood to Haugen without the landlord's consent.
Victim threatened
After a dispute about money arose between the two, Haugen became annoyed that Ms Kissell would not sign the tenancy over to him.
The pair had exchanged texts on the day of the murder before they met at the property.
The court heard that minutes after meeting Haugen, Ms Kissell texted her friend Donna Wallace saying: "My pal just pure kicked off at me."
When Ms Wallace phoned Ms Kissell 10 minutes later, the victim said Haugen had grabbed her by the throat and threatened to batter her and slit her throat.
The witness told the court that Ms Kissell ended the conversation saying they were sorting it out.
This, however, did not happen and Haugen attacked Ms Kissell with a knife, stabbing her 27 times.
Murderer's confession
Haugen, who formerly served as a soldier in Northern Ireland and Iraq, then phoned his father Brian Haugen, 63, and told him: "I think I've just killed somebody."
He then phoned his sister, Linsay Anne Haugen, 38, and told her: "She came round. She started causing trouble and I asked her to leave, but she wouldn't go. She kicked off.
"I then picked up the first thing that came to hand, which happened to be a kitchen knife. I've stabbed her."
The court heard that Haugen then dialled 999 and stated: "I've just committed a murder."
A post mortem examination revealed that some of the stab wounds Haugen inflicted would have required considerable force.
One penetrated the victim's heart and another to the stomach caused damage to a major vein.
Haugen will return to court for sentence later this month.