Referendum assault case against Labour MP Marie Rimmer re-raised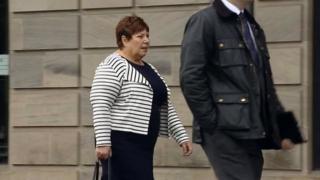 A Labour MP accused of kicking a "Yes" campaigner during the Scottish independence referendum is to return to court later this week.
Marie Rimmer was accused of assaulting Patricia McLeish outside a Glasgow polling station on 18 September.
The trial of the MP for St Helens South and Whiston collapsed because the word Glasgow was not included on the charge.
The Crown Office has now re-raised the case, with an initial hearing due to take place on Thursday.
Ms Rimmer appeared in court earlier this month.
The trial began taking evidence but the sheriff then noticed the word Glasgow had not been listed on the charge.
Prosecutors asked for the case to continue but, after representations from Ms Rimmer's lawyer, it was dismissed.
The Crown Office said at the time it would seek to re-raise the case.