Rail line repair on track after derailment at Cumnock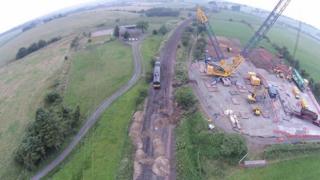 Engineers say they are "confident" the rail line through Ayrshire will reopen on Monday after work to remove derailed wagons was completed.
Two trains carrying ballast for engineering work collided on the track at Logan, near Cumnock, two weeks ago.
Network Rail said a 130-tonne locomotive engine and 16 wagons were moved from the site by Friday.
Engineers are now working "round-the-clock" to repair the damaged track in time to reopen the line.
Before lifting the engine and wagons, engineers had to first construct a 350m-long haul road, and operating pad, for the 1,000-tonne crane which was required to remove the wagons and the locomotive.
The derailment happened on Saturday 1 August, when two freight trains collided while delivering materials to an engineering work-site on the line, which was closed at the time. No-one was injured in the incident.
The rail line between Kilmarnock and Dumfries has been closed during the work.