Schoolboy revealed as Lego ferry designer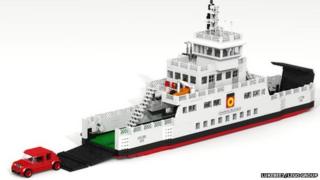 The mystery designer of a Lego replica of a CalMac ferry has been unveiled as a 14-year-old boy from Kilmarnock.
Luke Ball, who now lives in Hornsea, East Yorkshire, designed a scale model of the MV Loch Shira.
It was chosen as a Staff Pick on the Lego Ideas website, where designers seek support for their suggestions for new sets, and was trending as one of the site's most popular designs.
Luke was previously only known under the username Lukeebee1.
His design, entitled The Great British Holiday: Off to the Scottish Isles was uploaded to the site in April and has so far gained more than 1,500 supporters.
If a design receives 10,000 or more votes within a year of being posted, Lego promises to review it with the potential for it to go into production.
Luke, who moved to Hornsea in 2013, is a former pupil of Onthank Primary School and James Hamilton Academy in Kilmarnock.
He now attends Hornsea School and Language College.
He was recently invited onto the MV Loch Shira with his family and was taken onto the bridge.
"It was great to get on board and meet the captains," he said. "I've been on the ferry quite a few times, but just as a normal passenger - it's the first time I'd been up on the bridge.
"The view is completely different from up there and it was a great experience."
He added: "I'd like to be a design engineer when I leave school which is why I got so interested in the Lego Ideas site and designing scale models.
"It took me about 36 hours in total to design the boat on the Lego software and quite a long time to manipulate it to upload. It's on a scale of 1:50 and would be about 70cm long when built.
"I'm really happy CalMac likes the model and has been so good in supporting it and me - the visit to the real life Loch Shira was really special."
Alan Galt, one of the ferry's captains said: "Fingers crossed the mini MV Loch Shira gets all the support she needs - we'd love to see her in the shops."
MV Loch Shira serves the route from Largs in North Ayrshire to the Isle of Cumbrae.