Dawn McKenzie FAI: Foster carer's death 'avoidable'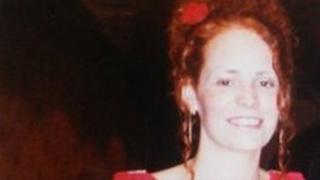 The death of a foster carer who was killed by a boy she was looking after was avoidable, an inquiry has found.
Dawn McKenzie, 34, was stabbed by the 13-year-old at her home in Hamilton in 2011. He was later detained for seven years after admitting culpable homicide due to diminished responsibility.
A fatal accident inquiry found that Mrs McKenzie's death was not foreseeable.
It may have been avoided, however, had Foster Care Associates Scotland taken proper account of her inexperience.
The fatal accident inquiry (FAI), before Sheriff David Bicket, heard that the boy, who had a troubled upbringing, was placed with Mrs McKenzie and her husband Bryan by Foster Care Associates Scotland (FCAS).
The agency had been engaged to find placements by Glasgow City Council.
'Not foreseeable'
The court heard that, in the days leading up to the killing, the boy's X-box, mobile phone and laptop had been taken from him for misbehaviour.
On 24 June 2011, when Mr McKenzie left the house, the boy, who cannot be named for legal reasons, attacked Mrs McKenzie.
She bled to death after being stabbed 10 times on the head and body.
In his ruling, Sheriff Bicket concludes: "It was not foreseen, nor was it foreseeable that child D (the boy) would take the life of the person who was caring for him."
His report also notes: "There were no defects in a system of working which contributed to the death of Mrs McKenzie".
However, it does say that the foster carer's death may have been prevented.
---
A troubled childhood
The report describes how, before being taken into care, Child D was living in a flat in Sighthill, Glasgow.
It was filthy, the children slept on mattresses or a sofa. Children were sometimes seen wandering outside at night.
After he and two half sisters were taken into care, social workers observed that the mother appeared to blame him for the situation.
His first foster placement was abandoned after it was discovered his parents knew the address of the carer.
The second placement appeared to go well. His carers described him as a "lovely boy" but they did not want to look after the children long term.
When he was placed with Mr and Mrs McKenzie, Child D was separated from his sisters.
Again he settled in well and the couple were considering making it a permanent placement.
His laptop was removed because he had tried to contact his mother via Facebook.
His foster carers arranged a paintball party for him - but none of his school friends turned up.
In the same month he had a scheduled contact session with his mother - and afterwards was said to be very "down".
---
The report states: "The death of Mrs McKenzie might have been avoided if Foster Care Associates Scotland ... had taken proper account of Mr and Mrs McKenzie's status as new carers, and lack of suitable prior experience of adolescent aged children such as child D and accordingly had not recommended them as suitable prospective carers for child D."
Following the FAI judgement, Estella Abraham, CEO Foster Care Associates Scotland, said: "Dawn McKenzie was highly regarded as a child care worker before becoming a foster carer with FCA Scotland.
"Sheriff Bickett has recognised that in a short space of time she made a positive contribution to a young person's life. Today our thoughts are with Dawns family and Brian in particular and we wish to express our sincere condolences to them.
"The conclusion of the inquiry was that Dawn's death was the result of an entirely unpredictable event.
"We will now reflect on the full findings and the recommendations made in the judgement to ensure that the foster care provided in Scotland continues to be the best it can be for the children involved and the families who care for them. Our commitment is to provide high quality foster care placement."
Glasgow City Council said: "This has been an incredibly distressing case and our thoughts remain with Mrs McKenzie's family.
"While Sheriff Bicket is clear that nothing could have predicted this tragedy, we believe it is appropriate to take time to give his findings the consideration they deserve before commenting in any detail.
"A report that will consider the implications of the sheriff's findings for the council, and what action we require to take as a result, will be submitted to our children and families committee as soon as is reasonably possible."
Following Mrs McKenzie's death, Glasgow Child Protection Committee commissioned a review of the care the boy received before carrying out the killing.
The findings, published in 2013, identified failings in the foster carer system such as inadequate staffing and shortage of resources but concluded Mrs McKenzie's death could not have been anticipated or prevented.