Glasgow bin lorry crash: Harry Clarke 'withheld' 2010 blackout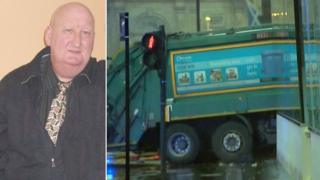 The inquiry into the Glasgow bin lorry crash which killed six people has heard that afterwards the driver did not tell a specialist about a previous blackout.
Glasgow Sheriff Court has previously heard that Harry Clarke, 58, blacked out at the wheel of a bus in 2010.
Cardiologist Professor Andrew Rankin told the inquiry that when he discussed the 2010 incident with Mr Clarke, he told him he had not lost consciousness.
Mr Clarke was unconscious when the bin lorry crashed on 22 December last year.
Six people died and 15 others were injured when the Glasgow City Council bin lorry veered out of control on Queen Street before crashing into the Millennium Hotel in George Square.
Health records
The fatal accident inquiry (FAI) is examining Mr Clarke's health, the condition of the lorry and the route taken.
The inquiry had previously heard that Mr Clarke failed to disclose information about his medical history on several occasions.
It was told that he had a history of health issues such as fainting and dizziness dating back to the 1970s, including fainting at the wheel of a stationary bus in April 2010.
On Monday, Prof Rankin told the FAI that he saw Mr Clarke as a patient in February and had access to some records of the 2010 episode.
During cross-examination, Dorothy Bain QC, representing the bereaved Morton family, put it to the witness that Mr Clarke had given him a "completely different" account of the 2010 incident to that given to other doctors.
"He told me that he had not actually lost consciousness," the professor told the inquiry.
Prof Rankin agreed he appeared to have been given a different account to other doctors who were aware that Mr Clarke had suffered a loss of consciousness.
The FAI later heard about possible weaknesses in the system for self-reporting of health problems to the Driver and Vehicle Licensing Agency (DVLA).
DVLA reporting
The inquiry had previously heard that the onus is on the driver, once they have been informed by a doctor, to report issues to the DVLA themselves.
Prof Rankin said he thought there were statistics showing a percentage of people who fail to self report.
The FAI also heard from Dr Ronald Neville, a GP in Dundee, who also prepares expert reports on drivers' fitness to drive. He prepared a report on Mr Clarke after the bin lorry crash.
Dr Neville said it was of "absolute key importance" that the DVLA should be notified if a driver lost consciousness at the wheel.
He said that no matter where an HGV driver fainted, if they were seated it was "abnormal" and the DVLA should be informed.
Dr Neville said the current system for self-reporting was "not fit for practice" as it was possible for drivers to fail to disclose "very important" information.
Glasgow City Council confirmed last week that it had suspended Mr Clarke on a precautionary basis pending a full disciplinary investigation into his conduct before and at the point where he commenced employment with the council.
Erin McQuade, 18, her grandparents Jack Sweeney, 68, and his 69-year-old wife Lorraine, all from Dumbarton, died in the bin lorry crash.
Stephenie Tait, 29, and Jacqueline Morton, 51, both from Glasgow, and Gillian Ewing, 52, from Edinburgh, were also killed.
The Crown Office has already concluded that there will be no criminal prosecution over the crash, with senior lawyers deeming it a "tragic accident".
The inquiry continues.