Largest aircraft carrier section floated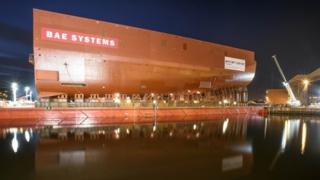 An 11,200 tonne aircraft carrier section has taken to the water for the first time on the Clyde.
Lower Block 04 is the largest hull section of HMS Prince of Wales.
A remote control device and almost 2,000 wheels were used to move it out of the ship build hall in Govan for the first time on Wednesday.
It was driven carefully on to a sea-going barge in the early hours of the morning. It will be taken to Rosyth for final assembly later this month.
Mick Ord, managing director of BAE Systems Naval Ships, said: "The sheer scale and complexity of this hull section is awe-inspiring and a reminder of the incredible skill that exists within our workforce and across the industry."
He added: "This is a significant moment as we approach the final block construction stages, but there's still much more work to be done on this programme as we support the assembly, outfitting, mission systems integration and trials over the coming years with our partners at Rosyth."
Lower Block 04 is 20 metres high, 80 metres long, comprises a fifth of the overall aircraft carrier and is already significantly larger than the Type 45 destroyers, which were the last vessels to be delivered to the Royal Navy from Glasgow.
The final two smaller sections of HMS Prince of Wales are scheduled for delivery by the end of the year.