Kelvingrove Museum announce redesign of iconic gallery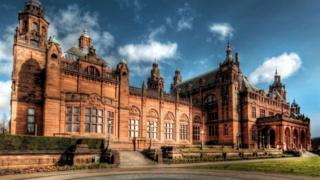 The Kelvingrove Museum is launching a fundraising campaign to redesign one of its most famous galleries.
The Life Gallery, home to Sir Roger the elephant and a spitfire, will be closed for months while work takes place.
Kelvingrove hopes to raise £10,000 from the public to help pay new items to be added to the museum.
As a result of the work, Sir Roger - of of the most popular exhibits - will be off public display from October until at least the New Year.
The museum's iconic spitfire will be lowered for a safety check in October, and the museum has decided to use this opportunity for a major redesign of the gallery where it hangs, the first since the museum reopened in 2006 following a multimillion pound refurbishment.
As a result, the gallery - situated in the museum's West Court - will close to the public from 5 October and reopen in Spring next year.
Glasgow Life has not revealed the total cost of the refurbishment, but said the charity Friends of Glasgow Museums has donated £50,000 for a complete redisplay of the Afro-tropics eco-zone. Glasgow Museums Patrons' Circle is also supporting the project, the council body added.
The £10,000 the museum hopes to raise from the public will be used to allow the display for the first time of a wandering albatross, which was specially obtained for Glasgow Museums by the British Antarctic Survey, and an Arctic tern.
Other new items on display will be a leopard, donated to the city from Glasgow Zoo, sawfish, lemurs from Madagascar and the duck-billed platypus from Australia.
When the work is complete, it is hoped the new exhibits will join the old favourites like Sir Roger and the spitfire in the gallery.
Glasgow Life has said visitors in the galleries of the museum will be able to watch the progress of the refurbishment, with a final phase of work planned in winter 2016.
Councillor Archie Graham, chair of Glasgow Life, said: "The remodelling of the Life Gallery at Kelvingrove will be one of the largest display changes since the building re-opened in 2006.
"This display always ranks highly on the must-see list of many of the million-plus people who visit the museum every year. Sir Roger and his animal friends are a huge draw and loved by the public, young and old.
"The Spitfire inspection provides a wonderful opportunity for Glasgow Museums to update our favourite exhibits and with the public's assistance bring some exciting new animals to Kelvingrove."
Glasgow Life says the redesign has been guided from information gathered in a public consultation held last year.