Renowned conductor Joseph Cullen jailed for abusing boys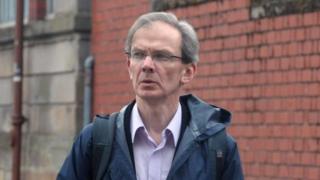 A Grammy Award-winning conductor has been jailed for 12 months for sexually abusing two young boys in Glasgow.
Joseph Cullen groomed his victims in the late 1970s and 80s while involved with choirs at the city's St Aloysius Church and St Andrew's Cathedral.
The 55-year-old, now of Otley, West Yorkshire, was caught after one of his victims contacted police in 2013.
Cullen worked at Westminster Cathedral and with London Symphony Chorus. He admitted charges of lewd conduct.
Judge Lord Turnbull said the conductor had carved out a prestigious career following the abuse resulting in genuine international acclaim.
Parental trust
But the judge added that the most serious aspect of Cullen's crimes meant a jail-term had to be imposed.
The abuse in this case spanned between 1976 and 1982 and started when Cullen was in his mid-to-late teens and his victim was about eight years old.
The first boy was groomed shortly after joining a choir at St Aloysius Church in Glasgow in which Cullen was also a member.
He secretly gave the child pocket money, gained the trust of his parents and began attacking the boy in his family home.
Cullen met his second victim in the early 80s while choirmaster at a singing group at Glasgow's St Andrew's Cathedral.
He would drive him to and from practice and make excuses for the boy to be within his vehicle.
Cullen again gained the trust and friendship of the child's family and began abusing him when he was aged about 11.
The attacks took place at Cullen's then home in the city's Riddrie area and in the changing area at the cathedral.
Cullen also attacked the boy in his car while driving him from school where he was also a music teacher.
Help offer
In 2007, the second victim, who by then was in his late 30s, confronted Cullen but the abuser said he could not remember anything,
Cullen then said to him: "If I can do anything, give you advice, help you... I'm here for you."
It was not until 2013 that the victim went police. The Archdiocese of Glasgow was also alerted.
The court heard that both victims had suffered lasting damage because of the abuse.
Cullen gained many plaudits as a leading conductor, choir master and organist.
He was most famous as a director of the London Symphony Chorus, winning two Grammy awards.
He has also been a conductor in America, France, Italy, Ireland and across the UK, including at Westminster Cathedral.
Cullen was latterly with the Huddersfield Choral Society in Yorkshire.
His lawyer, Jim Wallace, told the court: "He had a significant and successful career through individual talent and sheer hard work.
"But, as a result of his crimes, his downfall is now complete."