Ferry strikes off after CalMac talks deal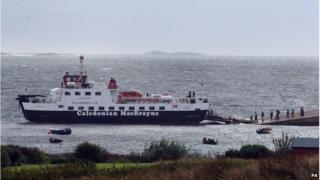 An agreement has been reached in the industrial dispute at CalMac and Argyll ferries which will prevent further strike action.
The breakthrough came after four days of talks involving the operator, the Scottish government and union representatives.
The dispute was prompted by concerns about putting CalMac services in the Clyde and Hebrides out to tender.
Transport minister Derek Mackay said he was "very pleased" with the agreement.
Mr Mackay said: "Nowhere will this news be welcomed more than in our islands and we must now return our focus on delivering these vital ferry services for the communities that depend on them.
"The agreement also means that the tendering process for the next CHFS contract will continue, with the Initial Invitation To Tender set to issue on 31st July."
He added: "As Minister for Transport and Islands, I'm well aware of the lifeline role these services play in supporting our islands and the Scottish government remains committed to delivering the very best deal for all of the communities of the Clyde and Hebrides."
In a joint statement, the RMT and TSSA unions said: "RMT and TSSA believe we have reached the best possible deal achievable for our members which will protect the current terms and conditions.
"In doing so we have also received the written assurances from the transport minister that there will be a requirement by any successful bidder to provide the current CalMac pension scheme."