Bust up over bike lane bus stop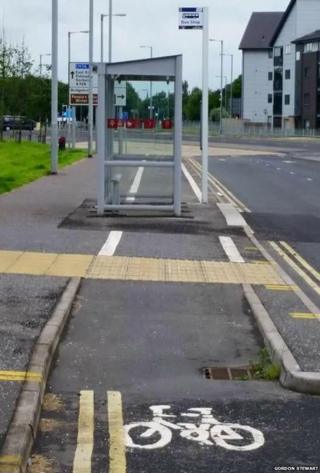 A cyclist has voiced his anger after a bus stop was placed across a Glasgow bike lane.
Architect and Glasgow Green Cycle Club member Michael Dougall tweeted his ire, saying he had been using the lane since it was completed last year.
The site, between Glasgow Green and the Velodrome, is in a part of the city that was a focus for Commonwealth Games regeneration.
Glasgow City Council said the path was now being rerouted behind the shelter.
The council apologised for the inconvenience and tweeted that the work should be completed this weekend.
However, Mr Dougall and others questioned what sort of Commonwealth Games legacy this was displaying and whether putting the cycle path into the way of pedestrians was a solution.
Others asked whether carrying out the work at the weekend was a good use of money.
Cyclist Ross McKay said the case highlighted by Mr Dougall was not the only example, with other shelters appearing along the Clyde Gateway.
Mr McKay recorded a video while cycling along the lane on the other side of road, describing the shelter's position as "ridiculous".
And here's a selection of some other interesting cycle lanes you've sent in.
G Ingram describes this example from Cambuslang as potentially "lethal".
Dr Mark Snaith says cyclists end up constantly giving way, as the lights change back and forth at this Dundee crossing.
This lane at Wilkie Road, in Uddingston, "crosses the carriageway, brings cyclists onto the footway and off!" says Donald Stirling.
Thomas Nugent emailed to say that in addition to the usual "dogs on long, invisible leads and pedestrians in the wrong place, cyclists using the path along Greenock's Esplanade have to avoid crashing into a marine navigation buoy on a concrete plinth".
Do you take two wheels through town? If so, what's the weirdest bit of cycle path you've come across?
Send us your pictures to newsonlinescotland@bbc.co.uk or tweet @BBCScotlandNews.
Please see our terms and conditions, but remember that the copyright remains with you.
Also, when taking photos, please do not endanger yourself or others, take unnecessary risks or infringe any laws.