Paisley pattern to be created 'for everyone alive'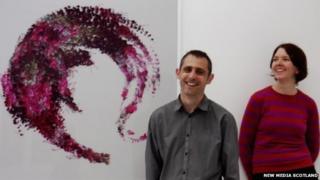 More than seven billion unique Paisley patterns are to be created - one for every person on earth - to support the town's bid for UK City of Culture.
The idea, from Southampton-based art group "boredomresearch", was selected as the winner of the inaugural £25,000 Paisley Digital Art Commission.
The award is run and funded by New Media Scotland, University of the West of Scotland and Renfrewshire Council.
The council is backing Paisley's bid to secure culture city status in 2021.
Boredomresearch artists Vicky Isley and Paul Smith will use digital technology to produce the unique Paisley patterns.
They came up with their idea - which is based around the uniqueness of genetics - after discovering Paisley Museum was home to the most celebrated catalogue of American avian life: "Birds of America", by John James Aubudon.
'Strong competition'
The artists will develop their project over the coming nine months, alongside a series of creative workshops where Paisley residents can gain insights into their work.
Ms Isley said: "We're really pleased to have won this award and are excited about creating a project that the people of Paisley can feel part of - and enable others worldwide to be part of this historical town."
Professor Nick Higgins, director of the University of the West of Scotland's Creative Media Academy, said the winners were chosen from "some extremely strong international competition".
"Vicky and Paul's proposal stood out as both an incredibly innovative and intimate idea that directly taps into Paisley's creative and artistic heritage," he said.
"What really impressed the panel was the artists' ambition to engage the people of Paisley in a design workshop process that will reinvent the iconic Paisley pattern for the digital age.
"It symbolises how Paisley itself has evolved and is now moving forward as it vies to become the UK's City of Culture in 2021."