Man rescued from river in Busby after cliff fall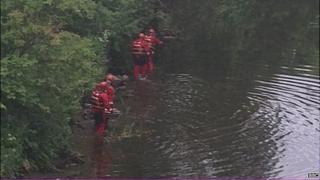 A man has been rescued after falling 30ft from a cliff onto a river bank to the south of Glasgow.
The 34-year-old man fell onto the banks of the White Cart Water in Busby, East Renfrewshire, at about 15:00.
A specialist fire brigade rope rescue team managed to reach him and winch him to safety.
He was treated by paramedics at the scene before being taken to hospital. The incident happened in Busby Glen Park.