Glasgow's SSE Hydro boosts profits for SECC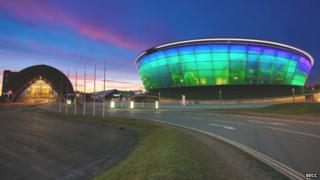 The SSE Hydro arena in Glasgow has provided a major financial boost to the Scottish Exhibition and Conference Centre (SECC).
SECC reported a record pre-tax profit of £6.7m for 2014/15, with turnover increasing by 50% to £34.9m.
It was the first full year of trading for the Hydro, which opened in September 2013.
The venue hosted more than 130 live performances in the year, and attracted more than one million visitors.
In January, it was ranked as the world's second-busiest live entertainment arena by trade publication Pollstar.
SECC said its financial year also benefited from acting as a venue for the Glasgow Commonwealth Games.
Commercial turnover increased by 98%, driven by sponsorship and hospitality.
Overall operating costs rose by 21% from £23.1m to £27.9m as a result of the enlarged business.
'Outstanding results'
SECC chief executive Peter Duthie said: "These are outstanding results which should be measured, not only in financial terms, but also by the increased economic impact generated by the campus with over 2.15 million visitors and numerous prestigious events held during the year.
"As a result of the business conducted by the company, the net additional expenditure in Glasgow was estimated at £485m, in Scotland £273m and in the UK £117m.
"The SSE Hydro has been the catalyst for this success."
He added: "The profits generated during the year will be reinvested in the campus to ensure the existing facilities continue to meet the needs of our customers in an increasingly competitive market.
"Whilst this year's results are exceptional we do not expect a repeat of this in the current financial year."
The SECC complex is owned and operated by SEC Ltd. Glasgow City Council has a 90% interest in the company.