No charges over Katie Hopkins' tweets on 'sweaty jocks'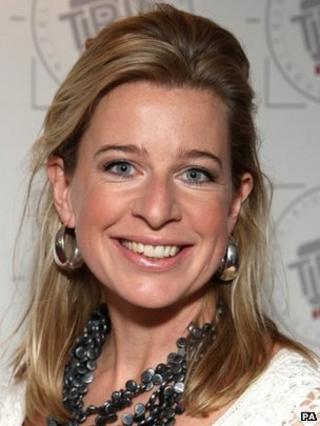 Katie Hopkins will not face any charges over a tweet which described Scottish people as "little sweaty jocks".
After news that a Scots nurse was being treated for Ebola, Hopkins wrote: "Sending us Ebola bombs in the form of sweaty Glaswegians just isn't cricket."
Another tweet said: "Glaswegian ebola patient moved to London's Royal Free Hospital. Not so independent when it matters most are we jocksville?"
Police Scotland said an investigation had found no criminality.
The force had received a series of complaints about the Twitter outburst.
Thousands of people also signed an online petition calling for action to be taken over the "racist tweets".
A Police Scotland spokesman said: "An investigation has been carried out and on this occasion no criminality has been established."
Hopkins' comments came after it emerged that nurse Pauline Cafferkey, who volunteered to help in the fight against Ebola, was diagnosed with the deadly virus on her return to Glasgow from Sierra Leone at the end of last year.
She received specialist treatment at the Royal Free Hospital in north London and has since made a full recovery.