Andy Coulson perjury trial begins in Edinburgh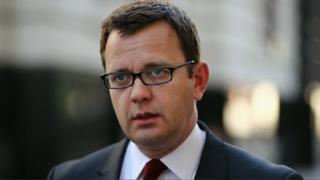 Former News of the World editor Andy Coulson has gone on trial in Scotland accused of perjury.
The 47-year-old journalist is accused of lying at the trial of Scottish socialist politician Tommy Sheridan at the High Court in Glasgow in 2010.
Mr Coulson, from Kent, a former head of communications at Downing Street, has entered a plea of not guilty at the High Court in Edinburgh.
His trial, before judge Lord Burns, is expected to last four weeks.
Mr Coulson, dressed in a grey suit, blue shirt and green tie, sat in the dock flanked by two security officers as the jury of nine men and six women was selected.
He sat impassively as the three-page indictment was read to him.
'Illegal activities'
The indictment alleges Mr Coulson made false claims on 9 and 10 December 2010 while he was a witness at Mr Sheridan's perjury trial and lied about knowing a journalist and private investigator employed by the News of the World who were involved in "phone hacking".
It claims that Mr Coulson falsely stated that before the arrest of private investigator Glenn Mulcaire and News of the World journalist Clive Goodman in 2006, he did not know that Goodman was involved in phone hacking with Mulcaire.
It also alleges he falsely said he did not know that payments were made to Mulcaire by Goodman and that he did not know of Mulcaire's "illegal activities" or have any email exchanges with Goodman in relation to Mulcaire.
The Crown further alleges that Mr Coulson falsely stated that he did not know of Mulcaire, had not heard his name and did not know that he was employed by the News of the World.
It is claimed Mr Coulson falsely said he had no knowledge of payments being made to corrupt police officers by staff of the News of the World while he was employed as an editor there.
Lord Burns told the jurors they must try the case solely on the evidence they heard from the witness box.
He said it was probable they had heard about Mr Sheridan and Mr Coulson and formed views about them.
But he said: "It would be completely wrong to be influenced in any way by such views or opinions."
The trial has been adjourned until Tuesday of next week.