Tribute paid to Argyll air crash couple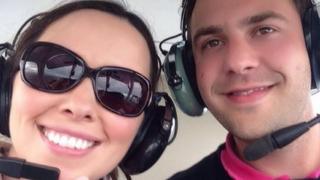 Tribute has been paid to a Dundee GP and her engineer husband who died in a plane crash in Argyll.
Dr Margaret Ann Rous, who was 37, and her 28-year-old husband David Rous were killed when a light aircraft struck the ground in Glen Etive.
The couple, from Newport-on-Tay in Fife, had been flying from Dundee to visit relatives on Tiree.
The emergency services had been alerted when contact was lost with the Piper Cherokee at about 13:50 on Saturday.
Police Scotland said the wreckage was discovered on the northern aspect of Glen Kinglass at 20:00, along with the remains of the two people on board.
Dr Rous' sister Johann Maclean paid tribute to her on social media.
She posted on Facebook: "Today has been the hardest day of my life, I love you Minnie xxxx"
She also thanked friends and family for their sympathy messages.
"Thank you all for the heartfelt messages, phone calls and visits," she wrote. "We appreciate your thoughts at this heartbreaking time xx."
Following the discovery of the wreckage, specialist officers remained at the scene in the Beinn nan Lus area of Glen Kinglass.
Inquiries are continuing into the cause of the accident.