Airdrie primary school badly damaged in fire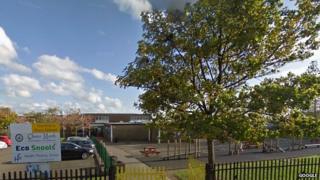 A primary school in North Lanarkshire has been badly damaged by fire.
The blaze broke out at St Dominic's Primary, in Petersburn Road, Airdrie, shortly after lessons ended for the day on Thursday.
A spokeswoman for North Lanarkshire Council said no pupils were in the school at the time.
She said fire crews were still at the scene and the damage was thought to be extensive. It was unlikely, she said, that the school would open on Friday.
The spokeswoman added: "Scottish Fire and Rescue are dealing with what we understand to be a significant fire at St Dominic's Primary School in Airdrie.
"We are not in a position at this early stage to assess the extent of the damage but we will work with the emergency services to do so when possible."
The school roll is 178 and the nursery takes 40 children in the morning sessions and 40 in the afternoons.