Woman robbed of thousands outside Millerston post office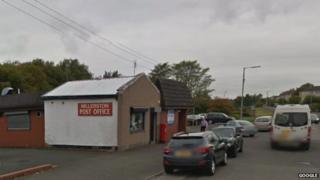 A woman transferring cash was robbed of a five-figure sum after being forced to the ground outside a post office.
The 51-year-old was carrying bags containing money when she was approached by three men and threatened with a blunt weapon.
The "targeted attack" happened on Station Road in Millerston, on the outskirts of Glasgow, at about 11:25.
The men made off in a black Renault Clio which was later found abandoned in Mossvale Walk.
Det Sgt Raymond Hunter, of Police Scotland, said: "This is understood to be a targeted attack on a woman who was in the process of moving money. Although the woman was not seriously injured, this has been a terrifying ordeal for her.
"We are in the process of reviewing CCTV images from the location and we are also gathering images from around the local area to gather further details on the cars involved and the suspects.
"I am appealing to anyone who may have any information or knowledge about the crime or the suspects to contact us. Your information could assist in the investigation and help us trace the men involved."