Glasgow 2014 'was under budget'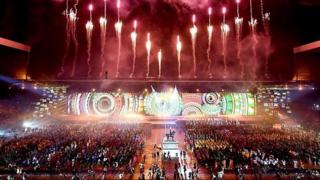 Glasgow's Commonwealth Games cost taxpayers £37m less than budgeted, according to a report by the public spending watchdog.
The Accounts Commission said £461.7m in public funding had been anticipated, but only £424.5m was spent.
The total budget agreed for the Games - including public money and commercial revenue - had been £575m.
But the commission said income from ticket sales and sponsorship meant the final spend was £543m.
'Positive picture'
Accounts Commission chair Douglas Sinclair said: "The Games have been widely seen as a success, and our report adds to this positive picture.
"Strong controls and good planning resulted in a £37.2m under spend of public money - money which will now be returned to the public sector.
"The partner organisations and businesses worked very well together to make the Games a great success. As this is a really strong example of successful partnership working it's really important for learning from this project to be shared within the public sector, to help future work."
The Accounts Commission report said that about 1.2 million tickets were sold for the Games, contributing to £118m of commercial income, which also included sponsorship and other private funding such as broadcasting.
The report said the organising committee and Police Scotland had good financial control over their budgets.
It also said clear legacy plans were in place to ensure lasting benefits from the Games and public bodies now needed to ensure these were delivered.
Auditor General Caroline Gardner said: "Working to ensure a legacy has been part and parcel of planning for the Games, and we've seen a good start on this.
"With ongoing pressures in public sector budgets it is all the more important for the Scottish government and Glasgow City Council to ensure the planned legacy benefits are achieved.
"They need to continue to evaluate the impact to ensure the Games achieves their longer-term aims such as a healthier population and better life chances for people living in the east end of Glasgow."
The Accounts Commission report said there may be "further costs and savings incurred as a result of the dissolution process for Glasgow 2014" which is due to be complete by the spring.
'Brought benefits'
Scottish Sports Minister Jamie Hepburn welcomed the report, which he said showed that "Glasgow 2014, as well as being a huge sporting success, was also exceptionally well run and well managed."
He added: "It was crucial to us, and all of our partners, that the Games brought benefits that lasted long after the closing ceremony.
"As well as the excellent sporting facilities and venues, we have seen community facilities, infrastructure benefits and scores of projects right around Scotland.
"I also hope that in time we will see that the Games has attracted more people to sport and physical activity, bringing about a permanent improvement in Scotland's health."
The Scottish Conservatives said the report showed that in 2012 the amount of money allocated for safety and security increased dramatically from £27m to £90m.
The party's sport spokeswoman Liz Smith said: "Taxpayers deserve good value for money and although the Games were a monumental event, there are still big question marks about the security funding which I hope are looked into for the future."