Police officer, 42, dies after two-vehicle crash near Beith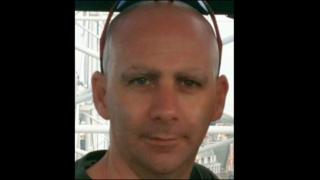 A man who died following a road crash in North Ayrshire was a serving police officer, it has been confirmed.
Police Scotland said father-of-three John Woods, 42, was killed when his Kia car was involved in a collision with a lorry near Beith on Tuesday afternoon.
Emergency services had been called to the scene on the A736 between Lugton and Burnhouse at about 13:40.
The 54-year-old lorry driver was not injured.
Police Scotland confirmed that Mr Woods had risen to the rank of inspector with the force, and had been based in the control room at its Helen Street station, where he was responsible for deploying officers in response to emergency calls.
He was not on duty at the time of the crash.
Mr Woods' family said the officer was "highly respected by all his colleagues and will be sadly missed by all who knew and worked with him".
In a statement, they said Mr Woods went to school in Irvine before studying at Glasgow University, from where he graduated with a master's degree in French, German, history and politics.
Mr Woods worked as a supply teacher in Ayrshire before joining Strathclyde Police in 1996.
After serving at several police stations throughout Ayrshire he began to move up through the ranks and took up a sergeant's post in Barrhead.
He then moved to Aikenhead Road Station in Glasgow before moving to the force headquarters at Pitt Street in Glasgow where he was promoted to inspector.