Papal envoy in Glasgow to mark St John Ogilvie feast day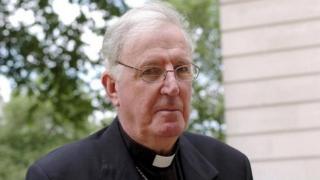 A special papal envoy is in Glasgow to mark the 400th anniversary of the death of St John Ogilvie.
Cardinal Cormac Murphy O'Connor will attend a Mass at St Andrew's Cathedral later to mark the saint's feast day.
The former Archbishop of Westminster will represent Pope Francis who was unable to accept an invitation from Glasgow's Archbishop, Philip Tartaglia.
Jesuit priest John Ogilvie was hanged at Glasgow Cross for high treason for converting Protestants to Catholicism.
The Mass at St Andrew's Cathedral will be held at 19:30.
In his homily, Archbishop Philip Tartaglia will highlight attacks on religious freedom, which he will claim, is "fragile, not always recognised, not always respected, in some places denied".
Archbishop Tartaglia will also commend ecumenical engagement in Scotland.
Born in 1579, John Ogilvie was raised as a Calvinist and was received into the Catholic faith aged 17 in 1596.
He was ordained a Jesuit priest in Paris in 1610 and returned to Scotland, which was largely Protestant following the Reformation and break with the Papacy in 1560.
While in Scotland, Ogilvie was arrested and following torture and trial, was convicted of high treason.
He had been denying the king's spiritual jurisdiction by upholding the Pope's spiritual primacy as well as conducting Mass in secret.
He was hanged at Glasgow Cross on 10 March 1615, aged 36.