Glasgow City Council confirms Cosla exit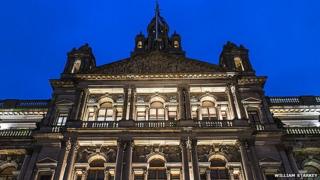 Glasgow City Council has confirmed it is to leave local government body Cosla to join a rival organisation.
Glasgow, which is Scotland's largest council, is expected to join three other Labour-controlled authorities in the Scottish Local Government Partnership (SLGP).
Aberdeen City Council announced on Wednesday that it would become the first member of the new body.
South Lanarkshire and Renfrewshire are expected to follow suit.
The four local authorities are quitting Cosla, the body set up to represent all of Scotland's councils, to negotiate directly with the Scottish government.
The move has been criticised by the SNP group on Glasgow City Council, which said it "reeks of party political game-playing".
'Equal partner'
Speaking after the council's executive committee took the decision to join the SLGP, Glasgow council leader Gordon Matheson said the partnership was an "exciting new start for local government in Scotland".
"We represent a quarter of the population and are responsible for almost half the country's economic output," he said.
"In the future it will simply not be possible to speak to local government without including us as an equal partner and we have already started meeting with Scotland's trade unions as we prepare for our role in national collective bargaining.
"I am looking forward to working with the Scottish and UK governments, the trade unions, other councils and civic Scotland. Working in partnership we will enhance the role of local government and help to grow Scotland's economy and the communities we all serve."
'Wedding scramble'
Susan Aitken, the SNP group leader, said Glasgow's Labour leadership had "ripped" the city out of Cosla in order to join a "Labour club of four."
She said the Labour leadership of the council had "failed miserably in their attempts to justify the decision today and were unable to give any indication of how the new body will address what they claim is their biggest concern: the local government funding allocation formula."
She added: "Right now it looks as though their solution will resemble something like an old-fashioned wedding scramble.
"We have no objection to Councillor Matheson complaining about the way he thinks Glasgow is treated by Cosla or the Scottish government. That is part of the democratic discourse. I do think, though, he'd be better off doing that over lunch with the other three Labour council leaders, rather than dragging Scotland's largest city into a Cosla-lite arrangement that offers no tangible benefit for the people of Glasgow."
South Lanarkshire will take its formal decision to join on 11 March and Renfrewshire on 23 March.
Cosla has said the creation of the SLGP does not signal the end for its organisation, and that the four councils are welcome to rejoin at any time.