Teacher Michael Rankin struck off 'inappropriate language'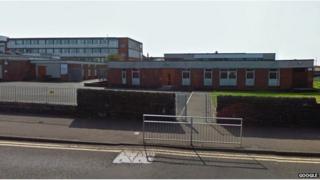 A technology teacher who repeatedly swore and used coarse sexual language with pupils has been struck off.
The decision to remove Michael Rankin followed a hearing by the General Teaching Council (GTC) for Scotland.
Mr Rankin, who taught at Ardrossan Academy in Ayrshire, said the "true context" of his "jokey comments" was absent from the report.
But Mr Rankin accepted that he had indulged in a "level of banter" with his classes.
The hearing was told that the 54-year-old, who had been registered since 2000, used "inappropriate language" towards S3 and S4 pupils between 16 August 2012 and 6 June 2013.
It heard that Mr Rankin believed he had been a "successful and effective" teacher, who aimed to "be encouraging and supportive to his pupils whilst maintaining discipline and fostering enthusiasm".
But the panel ruled that Mr Rankin would not be able to apply for re-registration as a teacher for two years due to the "seriousness of the conduct".
Insulting remarks
Mr Rankin's "inappropriate" comments came to light following an incident in the playground, where one pupil claimed Mr Rankin regularly swore at him and made an number of allegations about the teacher using derogatory comments towards pupils.
The report said that a number of pupils had outlined incidents in which Mr Rankin had sworn in class or made insulting remarks.
Such remarks were said to include a reference to having sex with one pupil's mother, asking "who ate all the pies", and calling pupils "fatty" and "Shrek".
However reports by other pupils, including a number of former pupils, said he had "never acted inappropriately in their classes".
In their report the panel said they had found that Mr Rankin had failed to "maintain professional boundaries", to "avoid improper relationships with pupils" and to "respect the unique position of trust" he held.
They said they had also taken account of the highly sexualised comments he had made to a number of students.
In addition, the panel said they were also of the view that the teacher had effectively intimidated pupils into not telling other teachers of his conduct.