Glasgow Royal Concert hall steps to be demolished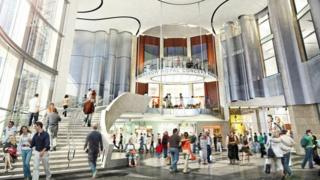 The steps outside Glasgow Royal Concert Hall are to be demolished after the council voted through plans to extend Buchanan Galleries shopping centre.
The steps will be replaced by a new atrium which will provide access to both the concert hall and Buchanan Galleries.
Hundreds of people had voiced their objections to the controversial proposal online.
Council leader Gordon Matheson said the move would generate 1,500 new jobs.
But Councillor Graeme Hendry, former leader of the SNP group on Glasgow City Council, expressed his disappointment that the steps were to be demolished.
On his twitter page he said it was a "very sad decision" and reflected "a lack of ambition in Glasgow".
Opponents to the plans had argued that the steps had come to belong to the people of Glasgow and were unhappy that they were, as they saw it, being sacrificed to capitalism. Others simply did not want to see a popular landmark go.
An online petition to save the landmark has so far attracted more than 14,000 signatures.
But supporters say the changes will make it easier for disabled people to get into the concert hall, as the proposed new glass fronted atrium will have both lifts and a staircase to take pedestrians up to the foyer of the concert hall.
Work is due to begin this summer.
The £390m scheme to extend Buchanan Galleries will see:
Extensions to the existing Buchanan Galleries Shopping Centre
The erection of an entrance atrium to Glasgow Royal Concert Hall and Buchanan Galleries on Buchanan Street - replacing the steps
The demolition of the existing car park and the erection of a replacement on a site at Queen Street Station.
Glasgow City Council leader Gordon Matheson argued the scheme would improve the city centre's public realm and infrastructure, and generate 1,500 jobs.
He said: "We are justifiably proud in Glasgow city centre being the UK's second biggest retail destination, but to ensure we remain in such a position new ways of attracting visitors and investors must be found. The expansion of the Galleries will help us to do so."
"This planning consent will unlock over £300m of private sector investment for Glasgow."
The Concert Hall was opened in 1990 as part of Glasgow's year as European City of Culture, but the steps in front of the building quickly became a landmark and a popular place for workers and passers-by to sit down.
Through the 1970s and 1980s, the land where the Concert Hall and Buchanan Galleries were built was one of the biggest urban wastelands in Britain, with the land virtually unused all the way from Queen Street railway station to Buchanan Bus Station.
Redeveloping the area took many years, with the neighbouring shopping centre delayed by the recession of the early 1990s. It was only completed in 1999.