Top Glasgow defence lawyer Joe Beltrami dies aged 83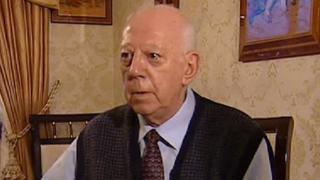 One of Scotland's best-known criminal defence lawyers Joe Beltrami has died aged 83.
In a career spanning almost 50 years, he successfully defended clients who faced the death penalty and helped secure the first ever Royal Pardon issued in Scotland.
The Glasgow Bar Association said many colleagues in the legal profession would mourn Mr Beltrami's death.
It said: "Joe was well-known to all who practised at the Glasgow Bar."
Joe Beltrami was born in Rutherglen, South Lanarkshire, and is survived by his three sons, one of whom is deputy chief prosecutor in Wales.
Reevel Alderson, BBC Scotland Home Affairs Correspondent
"Get me Beltrami" was a phrase coined in the 1970s and 1980s among Glaswegian criminals facing desperate circumstances.
His was a high-profile career as a solicitor, during which he helped obtain the acquittal of 12 murder suspects threatened with hanging.
He was also involved in the first Royal Pardon to be granted in Scotland when Maurice Swanson had his convictions for bank robbery quashed.
Later, he represented safe-blower Paddy Meehan who'd been controversially convicted of murder. He too received a Royal Pardon in 1976.
A statement from the firm he founded, Beltrami & Co, announced his death.
It read: "It is with great sadness that we announce the passing of our founder, the legendary Mr Joseph Beltrami. Sincere condolences to his family."
Thomas Ross, president of the Scottish Criminal Bar Association, said: "The Scottish Criminal Bar Association is extremely sad to learn of the passing of Joseph Beltrami.
"Perhaps the first lawyer in Scotland to specialise in criminal law, he laid the path for all of us to follow.
"No counsel instructed by him failed to learn from his guidance. Known fondly as 'Big Joe' - he will never be forgotten."