Fertility clinic at Glasgow Royal Infirmary reopens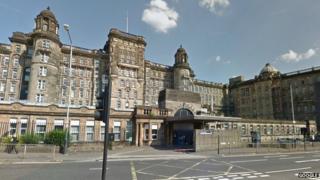 A scandal-hit fertility clinic is due to reopen.
A £4m refurbishment has been carried out at the Assisted Conception Unit at Glasgow Royal Infirmary.
It was closed following a sudden drop in success rates in 2012. Fertilisation rates at the Glasgow unit reportedly plunged from the national norm of about 30% to 15% between September and November that year.
It was suggested the drop could be due to building works on the floor above.
Dust, paint fumes and chemical vapours can pose a danger to delicate embryos being prepared for implantation.
A full internal investigation was carried out but it was unable to determine the cause of the drop in fertility rates.
NHS Greater Glasgow and Clyde said the decline in success rates was not as a result clinical error.
'Reducing stress'
Glasgow's Assisted Conception Unit provides fertility treatment for patients in Greater Glasgow, Clyde, Lanarkshire, Ayrshire, Arran, Dumfries and Galloway.
Fertility services were temporarily relocated to a private hospital while the investigations were carried out.
About 25 NHS patients per week were treated at the Nuffield hospital in Glasgow.
Women who had undergone procedures during the period in question were offered an extra cycle of treatment.
The new fertility unit was opened by Health Secretary Shona Robison.
She said: "I'm thrilled to be able to be here today to meet staff and patients from the new Assisted Conception Service Unit. This new facility provides a calm and supportive environment for patients who are undergoing treatment, reducing stress at what can be a particularly difficult time.
"With the new unit's additional capacity and centrally located services, it will also help to significantly reduce the length of time patients have to wait for IVF treatment ensuring equitable access to services across Scotland."